Are you ready to revolutionize your diet with delicious, home-cooked meals made by YOU?
At Shepsmeri Kitchen, now you can! Whether you're a novice who can't seem to boil water or an experienced chef who could spend all day in the kitchen, we believe you can make ANY meal into an extraordinary experience.
We offer a variety of seasonal and specialty classes designed to excite your taste buds through a variety of ripe and flavorful foods that are perfect for each time of year.
We have courses to suit your every need. By the time you're done, you'll find yourself making at-home recipes with ease and WOW-ing your friends and loved ones with your increased culinary skills!
Call NOW for more information!
917-524-8602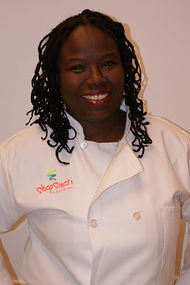 Onique Oliver, a Dean's list graduate of The New York Restaurant School brings over 20 years of experience to events and catering. Her career highlights include managing Zone Chef a multi-million dollar five star catering company that attracts A-List actors, celebrities and Top entertainment industry talent. Chef Oliver has catered events at New York's prestigious Regent Wall Street Hotel. She has orchestrated the 50th anniversary celebration of a prominent NY Senator at Brooklyn's Prospect Park Picnic House; as well as serving as one of the signature caterers for the Brooklyn Chamber of Commerce.
As a teacher and culinary mentor Chef Oliver has taught to adults and to young minds at the Children's Aid Society since 2007. She imbues her students with invaluable lessons in the kitchen and life. They are encouraged to experiment and expect success.
Chef Oliver's culinary talents range from International Fusion, Caribbean, Mediterranean, to Thai. With the mundane extremes in fine dining; guests never leave either hungry or quite full overloaded with carbs, fats, and empty calories. Chef Oliver's creations are not only delicious; they are very healthy with a focus on reduced fat, sodium and sugar. Guests feel energetic and vibrant to participate in the venue's activities and not simply watch from the sidelines.
Shepsmeri Kitchen: Cooking Instructions from Basic knife Skills to Healthy Plant Based Raw Preparations